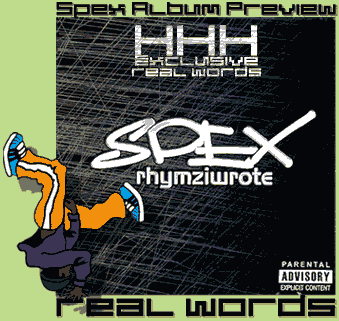 The Hip-Hop Headrush, in alliance with Eargasm records, brings you selected audio snippets from Spex's debut album, "RhymzIwrote". Included here are snippets of 5 tracks in Real Audio and MP3 format.
Until recently Spex was better known for his track 'Virgin' recorded as part of the duo, the Metamo Forces, which was featured on 1997's Muthaload compilation. In early 1999 his first solo single 'Hizo' was aired on YFM in Gauteng. His second single, "M.O.T.H." went on to become a 5/5 hit on Phat Joe's morning show. Spex writes his lyrics, produces beats and co-owns the U THOHT? entertainment company.
The 'RhymzIwrote' EP featured here has 8 banging tracks and was released on September 01 1999. Make sure you get your hands on the album which is available in stores now. It features full-length versions of all these tracks as well as additional remixes of 'Hizo' and an instrumental version of M.O.T.H.
For more information and international orders contact Eargasm Entertainment via e-mail, or phone them at +27 (11) 487 0676 or 082 462 3063. For booking and other information phone 082 426 7455 or 082 754 1920. You can also e-mail Spex himself or check out his website.