25/05/2001

Words by Phi
Table Turnz 3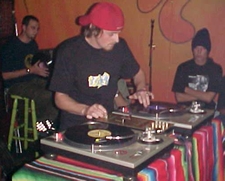 Speaking to the HHH after the third part of what has become a series of annual events, DJ Bionic briefly breaks down the origins of Table Turnz III: "Table Turnz is something that started out in San Francisco. DJ's would just get together and have an open decks session, and the concept blew up in Chicago, New York and elsewhere." Soon enough 'elsewhere' came to include South Africa - under the auspices of Eargasm, the record label-come-promotions company run by Bionic (real name Bradley Williams) and his partner Melanie Ramjee. The name Table Turnz could not be more indicative of a scene where, despite the obvious significance to Hip-Hop, the DJ still remains an unsung hero. JHB's street culture is notorious for celebrating house music personalities (who pose as DJ's), and when it comes to Hip-Hop, the focus tends to be on the MC's. This event promised a necessary spotlight for DJ skills, more than tracks and popularity (or the lack thereof).
Just like their American counterparts, J Section's first and second installments of Table Turnz offered no more than a gathering of DJ's to showcase the results of many a late night bedroom session on the decks. This year TT III evolved into a full-on battle with Twiggs and Frogg (of Boogie Down Knights acclaim), Ill Syntax, and 206 residents Redwood and Sibot as its combatants. No stranger to wars with wax, veteran DJ Ready D headlined the event. As tends to be the case with 206 Hip-Hop specialty nights, the venue took a while to fill up. As a warm up each DJ was given a couple of minutes to rock a set to acquaint him with the crowd before getting down to the actual brawl. The battle was very tightly executed. Each DJ had a minute to rock their tightest shit - a tall order for the best of them. The opponents were either fazed by the short time allocated or just not armed well enough for what the clash entailed because, while each one's efforts were plausible, their delivery still left a lot to be desired. Out of the five contestants it appeared as if only Sibot and Redwood really understood the concept of a DJ battle because those two were the only ones who attempted to use their time effectively and demonstrate as many of their tricks as possible. Redwood's set came off a bit clumsy in places but he definitely compensated with some excellent juggles. Sibot, a DJ for the group Max Normal, and a crowd favorite from the onset, was almost earmarked as the night's victor on that basis alone. He also made use of choice battle records and had his crabs down - so despite a somewhat dodgy sense of rhythm, he emerged as the winner off TT3.
On the whole the event seemed over almost too soon and could have deteriorated into an anti-climax had it not been for the unstoppable prowess of Ready D on the wheels of steel. Although D's reputation as a general turntable mutilator is widely acknowledged in Msawawa and beyond, of late he has been known to play gigs which are more jiggy than anything else. So when he took to the decks like a demon, scratching with just about every visible part of his anatomy and flipping the records at impossible speed it was like seeing him for the first time. He held the crowd's attention for half an hour with delightful tricks and animated showmanship - needless to say Ready was in rare form! He then built up to an hour and a half of signature "throw your hands up" tracks - to the utmost pleasure of the crowd who at that point were just about ready to get down with the get down.
Later that evening Ready D revealed that, save for one or two international DJ's he had looked up to in the bad old days, most of what he knew was self-taught. "It is a good staring point. It's the first true battle that I have seen," he commented on TT3 before admitting that, "as DJ's on a technical level we have a very long way to go but we all know why that is." Putting history and its repercussions aside, Ready D has fulfilled a significant mentoring role. This fact was highlighted in a previous conversation with Bionic where he reminisced on being filled with awe growing up and seeing Ready D scratch with a bucket and "still making it sound ill".
While turntablism is not always the easiest concept to introduce to a mainstream crowd, a lot of the onus is on the DJ to inspire the crowd's consciousness. Bionic couldn't have put it better when he said, "Some DJ's think they can get away with playing all the underground shit and what happens is that the club is empty the next week... DJ's need to know and understand who they are playing for and know what level they're on and then take it from there." Table Turnz is a confident stride forward in the building of the local DJ culture, hopefully the end result will be a total revolution of the synergy between the crowd and the DJ - as well as the creation of a platform which will build enough credibility to inspire more cats to cross over from merely spectators to more active contributors.