21/10/2001

Open Mind Sessions Volume 4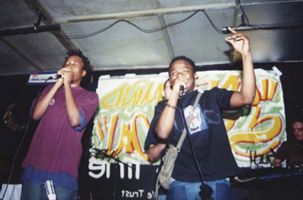 Open Mind Session 4, a sobriquet that offered a refreshing remedy to the heat and rain we have been experiencing in the J-Section, and not forgetting the persistent hunger pangs that have been ravishing ardent followers who did not get their OMS dosage in September.
Once again, Melville's Bassline housed the explosion of art and talent as heads and artists alike converged to witness the occasion that draws people from all walks of life. To set the scene, Jurassic Mark snared illmatic beats as Kenzhero teased the rhythm patterns signaling the live band presence that was to support most of the artists throughout the evening. After a lengthy delay and sound checks, our hosts, who transcended their artistic totems to Bizmillah (Bhubesi) and Mollo Modise (Zack), resumed their duties. Mollo Modise manifested his chieftain command with a high-pitched whistle that called people to order and, as the Open Mind Session flag swayed and cleansed the air, the first wordsmith by the name of Keish (who is becoming something of a curtain raiser) set off the session as she showcased her improved skills. Hot on her heels was none other than Master Sip, Skwatta Kamp's representative who recited an epode of his name with eloquence, showing his African pride. Sip went on to solidify his place in people's minds with a tight freestyle, accompanied by Jurassic Mark on drums. Next on stage was a two man crew by the name of E-Magic, who painted a verbal masterpiece of Ekasi lyrical prowess. Jurassic Mark and the band eased things down as heads took a break, blazed one and built.
Sibonelo who blessed the crowd with a tight track, set off the next segment. Hemza from Native Hearts All Stars went solo on the verbal weapon and proved to be a high pedigree MC. In line with the goal of OMS, which is to open up minds, Jabsi a.k.a. 3rd Eye, member of Kush Kollective changed the pace a little bit by showcasing a film by Zola Maseko called The Foreigner based on Xenophobia in South Africa. I cannot express how relevant this film is to the youth of South Africa and their role in today's global society. To complement this, an artist by the name of Walter took the crowd on a rhythmic journey with a solo African drumming performanc. Then Faca, an actor who was a cast member of the Lion King stepped on stage to send a strong message to all present - in a nutshell being thatwhat goes around comes around and that we should treat our African neighbours as brothers and sisters. C-Live hit the decks and brought heads back to the matter at hand with pickled mixes over tight Hip-Hop tracks as the show faded to the next intermission.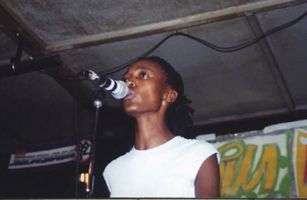 After a short break and a few words from our host, OMS showed its versatility by introducing an artist by the name of Billy who brought a new sound to the session, which I still cannot fully explain. Billy resonated mellow vocals over digital techno sounds that fused R&B sound signatures - creating a totally unique sound. A lot of heads did not understand the sound but appreciated it nevertheless. Hot on the heels of Billy was the ever-popular C4 Tupperware from Mars accompanied by Palesa who lived up to expectation with their abstract track "At the Quick Shop". Makgabe dropped ill beat box wave patterns as the rest of the crew laced well constructed poems. Optical Illusion took to the stage immediately after C4 and dropped tight tracks that testified to their well-sharpened lyrical delivery. Then beatbox tradition was resumed by Redwood accompanied by DJ Sibot who together traced a tapestry of sounds and beats that had the audience asking for more. Makgabe joined Redwood and the two took the beatboxing element of Hip-Hop to another level. I was dumbstruck as I listened to the exchange of sound metaphors and the versatility of the human mouth. The crowd took this combination with enthusiasm and Mollo Modise joined the two artists and I could not help feel and connect with the earth tone language that emanated from these talented sound slayers. As Mollo Modise and Makgabe bowed off, Bizmillah could not contain himself and with unprecedented equanimity went on to lace the illest freestyle of the evening with Redwood providing the beat box. Max Normal took over from Bizmillah and as usual had the animated delivery on point. Redwood bowed off as 340ml accompanied Max on a journey of live sound and theatrical lyrical delivery. Mista Bigga and DJ Bionic closed off the set with short well-timed sets.
Bizmillah announced the entrance of the main act for the evening, 5th Floor, who hail from Gugulethu, and a comedian by the name of Tshepo opened for them with an impromptu comic interlude. Jurassic Mark and the band sailed with them as they dropped tracks bound by tight choruses. Although they did not perform as expected and lacked stage presence they nevertheless represented.
Big up to Organix for putting together yet another tight show. Open Mind Session 5 is on the cards and all those who seek lyrical fruit that feed the mind and soul are welcome.