04/08/96
Written by Mass Dosage
The need for a South African musical Revolution.

Revolution. That's what Hip-Hop music has always been about - dethroning old ideas for better ones, a view from the bottom instead of the top, burning flags, painting the white house black and so on. It is going to need the full power of this revolutionary force if it is to overcome its present state of stagnation in South Africa. Relics of apartheid still exist in the form of white-owned and controlled record companies in desperate need of a dash of love, hugs and Hip-Hop soul instead of the played out sex, drugs and rock-n-roll we have force fed into us.
Record company executives need to open both their eyes and their minds to the powerful messages being freestyled by undiscovered talents countrywide. America has proved that the music industry is a way for people like this to escape from the poverty they are often surrounded by, and they in turn help others out from the killing fields. But if no money is invested in the first place this cycle will never start and they will either starve along with their talent, or turn to other means of survival. The South African music industry needs a wake-up call so that it will finally realise that Hip-hop is an art form that is here to stay (it's over 18 years old now and gets bigger every year) and what's more, it can generate money - just ask Biggie Smalls and Dr. Dre how they went from ghetto rags to suburban riches.
America may be the place where Hip-hop originated , but that does not mean that we have to follow their rules. Hip-hop is about breaking away from rules and convention, and this is desperately needed in order to create our own unique local style that doesn't sound like a poor imitation of somebody else's. No American Rap groups have ever come to tour the "Motherland" so why should we try to copy their every move and sound? The most respected groups in this biz are the ones who have had the confidence to do something different - Public Enemy starting the black consciousness movement, N.W.A. setting it off on the gangster tip, KRS-One teaching knowledge, Gang Starr experimenting with Jazz, Das EFX with the diggedy, and the Wu-Tang clan Kung Fu kicking Rap into the next decade.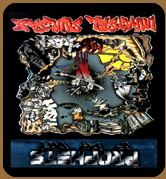 The present outlook is dismal: we have Prophets of the City finally returning from a year of working in England on an album which will not even be released locally; the Original Evergreen jumping red-eyed onto the Marijuana bandwagon that has been overloaded with confused MC's ever since Cypress Hill were stoned and proud half a decade ago; In-Tribe and Tap have vanished like MC Hammer's popularity and baggy pants; and then there are a handful of R&B and Soul acts trying their best to hold it down, but lacking direction and a message behind their music. Local Hip-hop mustn't be afraid, and in fact should be encouraged, to draw on it's roots and start a full-scale local music revolution, changing people's perceptions of it and hopefully uplifting some ghetto stars along the way. Like the Fugees said, it's a case of too many undiscovered MC's but not enough mics. This situation can only be reversed if South African Rap music is controlled, managed, distributed and produced by people who truly understand and live the lifestyle we proudly call Hip-Hop.